Decades of Experience
b
Over 30 years of experience
j
Over 15 different silicon foundries
c
Process experience ranging 60nm-1.2um
p
Infrared camera development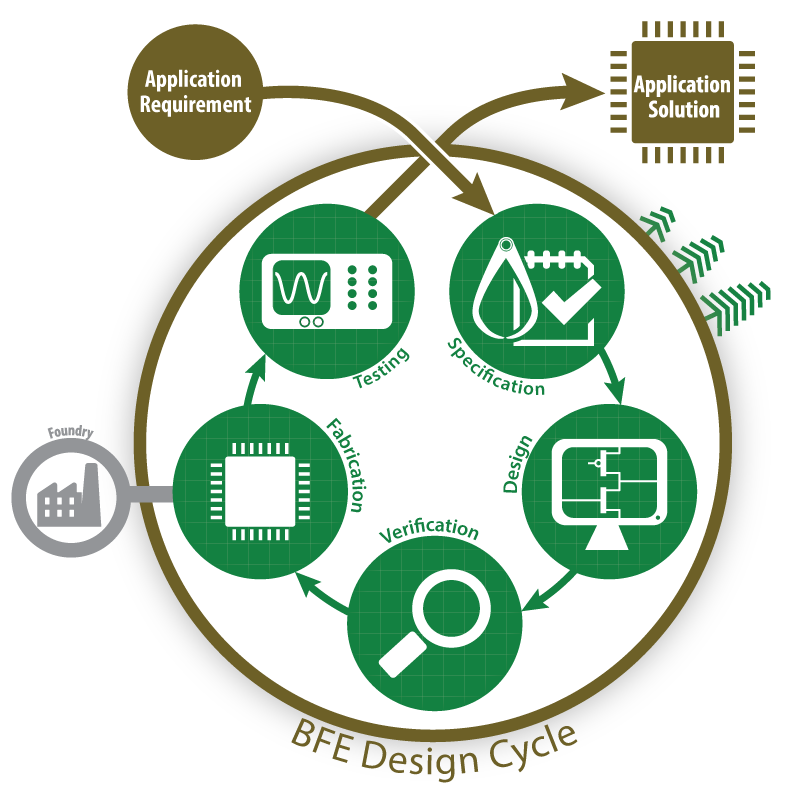 k

Applications
IR detectors / preamplifiers / multiplexers
LIDAR detectors & readout
Laser drivers
Photonic counting circuits
Micro-power A/D and D/A converters
X-ray and high energy particle detectors and interface chips
Radiation hard versions of above
Image sensors (CMOS and CCD)
Image processors
Integrated liquid crystal drivers
b

Chip Size Extremes
300um diameter die size imagers for medical applications
17×19 mm2 display driver for projection displays
51×25 mm2 visible/scintillator x-ray sensor (using stitching)
g

Special Features
2Ghz analog bandwidth CMOS for LIDAR range sensing
Single photon detection
22V CMOS devices
Far infrared & high energy particle readout processors
SWIR, MWIR, LWIR
h

Non-Standard processes

Unique & cutting edge applications often require specific technologies
 Thermopile – Micrel
 PiN detector – Micron Semiconductor Ltd.
 Rad-hard CMOS – Honeywell 0.8 SOI
IR Detectors – InGaAs, HgCdTe, PbSe, a-Si
 CCD – Supertex 1.2um
j

Foundry Experience
TSMC 0.13um, 0.18um, 0.25um, 0.35um (includes their BCD [Bipolar, CMOS, DMOS] Power management technology)
Tower/Jazz 0.13um, 0.18um, 0.25um, 0.35um (Stitching, ITAR Compliant)
IBM (corp. site) 0.13um (ITAR Compliant)
Austria MicroSystems 0.35um
Others include: AMIS (0.5um, 1.2um), CSMC (0.6um), Fujitsu (0.25um), HP (0.35um, 0.5um), Amkor (0.35um, 0.5um), Texas Instruments (0.8um, 1um), UMC (0.4um (5V))
j

Mask Types
Full Mask Sets
Stitching: Enables fabrication of large dice.  A repeated exposure masking process that has its own complexities yield considerations.
MPW: In addition to foundry specific multi-project wafer  runs we have worked with MOSIS • Global Unichip • EUROPRACTICE.
h

Process Types & Materials
CMOS
CMOS/CCD
Bi-CMOS
BCD (Bipolar, CMOS, DMOS)
CMOS-SOS
d

Device Protocols/Interfaces
f

Custom Test Systems

Performance built for your specific requirements.
Wafer probing
Testing at cryogenic temperatures
PCB designs and interfaces using FPGA, CPLD and a variety of other components
Solutions for system interface problems:

High density interconnect
Non-standard packaging
Optics